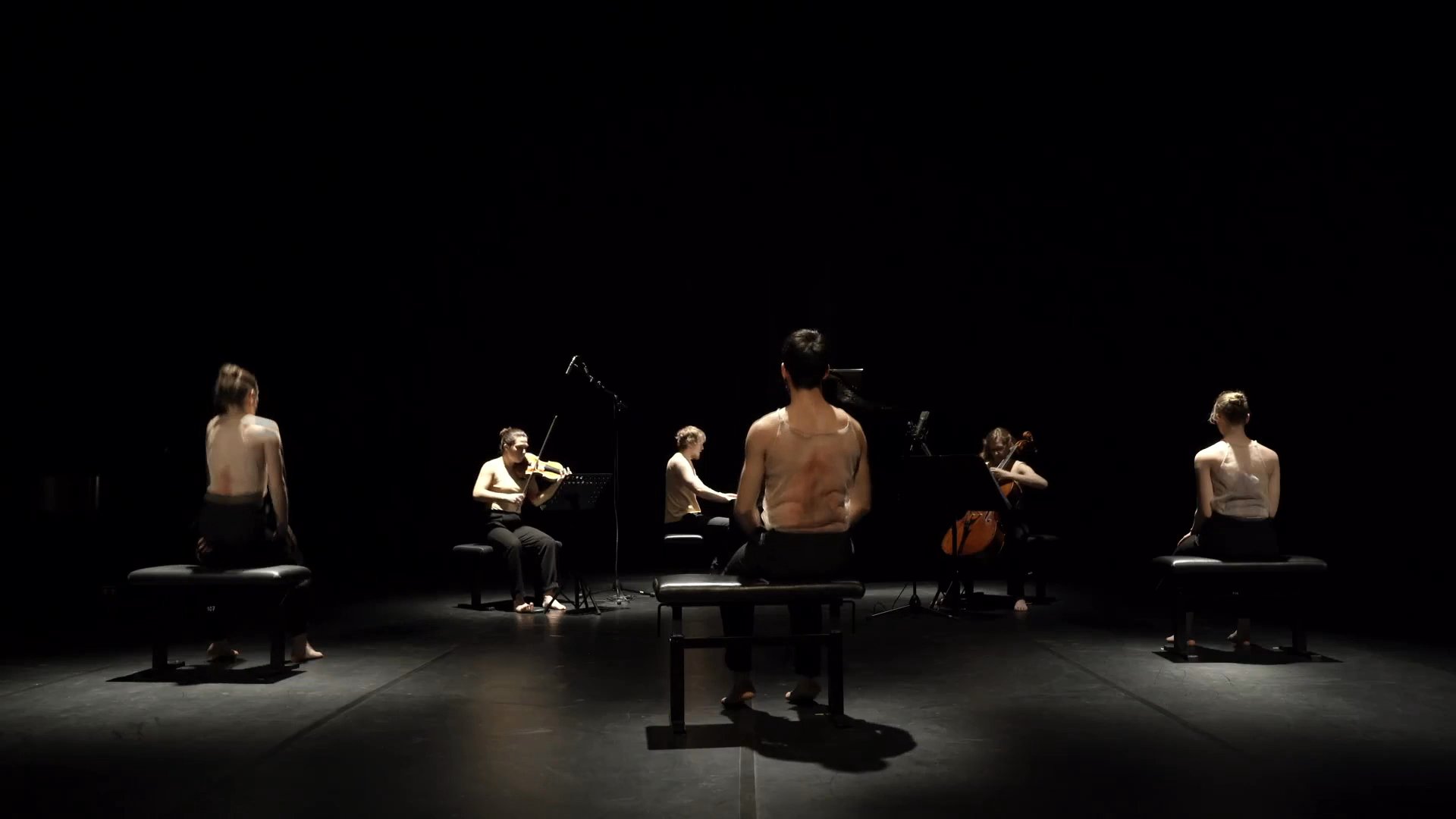 "The basis of the piece is the categorisations of movement made by the choreographer Rudolf Laban. This does not mean that the movements themselves play a role independent of the sound, but I want to emphasize a very concrete relationship between movement and sound, even where different types of sounds are coupled with the same type of movement. "La Palanca" means "the lever" and this image plays a central role in the piece, as it is about a kind of balance (or its exact opposite) that allows something very heavy to be balanced by something very light. Not only is Laban's theory an attempt to find points of contact with dance; rather, the structure of the piece, insofar as three dancers are involved in this ballet, is also based on the three different summands of the number 3, i.e. once 3, or three times 1, or 1+2."
(Vladimir Guicheff Bogacz)
On the occasion of the Zimmermann Year 2018, the composer Vladimir Guicheff Bogacz wrote another piece for uBu's cast, referring to "Présence", commissioned by the city of Cologne; the choreography was developed by uBu member Yves Ytier.
"The dancers sway on a small bench as if under the control of others, become unbalanced, hang in imaginary ropes, on invisible strings. Is it the musicians who, as puppeteers, dictate the movements with their sounds? A play that, without being explicitly political, has a high potential for dealing with today's society."
(Natalie Godziak, hoertz24)
Cast & Credits
Composition: Vladimir Guichef Bogacz
Choreography: Yves Ytier
Performance: Anna Neubert, Magdalena Öttl, Esther Saladin, Antonia Stäcker, Christoph Stöber, Yves Ytier
Costume design: Sophia Spies
Recording: Rebekka ter Braak (video), Antonina Wyszyńska (sound)
09.02.2019, 6:30 PM

Hochschule für Musik und Tanz Köln